All Core systems come pre installed with a selections of fonts. Depending on  your level you will have either 30, 100 or 200 fonts to choose from.
You can always add more by choosing a Pack to customize your program  to suit your needs. Or choose single fonts from the store
Do a lot of monogramming? Select one of the Monogram packs
How about Puff Fonts? We got em
Maybe you do Athletic wear? We got those too

Scripts, Blocks, Small , Large, we do it All!

Point is, whatever you want to to do , we can help you do it.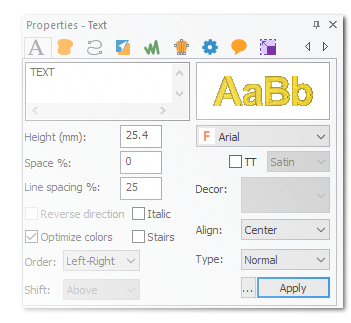 Cores lettering is of high quality and easy to use with all the lettering settings in one simple control.

Type on Screen  lets you see exactly what you are creating and how it will look.

On screen tools allow you to adjust the text to get exactly what you need.